...
Once an IdP exists in in the toolset (i.e. once the first invitation token for the IdP has been redeemed by an invitee), the IdP admin can add more administrators or delete others as he sees fit. You can do the same though, by using the "Add/Remove Administrators" link on the right side of the list of IdPs. Please consult the IdP-level guides to the respective tool of the toolset for further details of administrator management.
Image Removed

Image Added
Take control over an IdP
...
Since the official eduroa database contains only production-level eduroam IdPs, but the CAT can also be made available to IdPs which are still in a setup/bootstrap phase, the databases of the two tools are not in perfect sync. To avoid fragmentation and desynchronisation of the databases, federation NRO administrators are encouraged to link the same IdP in both databases together.
In your federation NRO overview page, you'll see the database link status on your dashboard page; the IdP is either "linked" or "NOT linked" to the eduroam database.
IdPs are automatically linked correctly if you used the "Existing IdP" dropdown list when inviting the first IdP administrator; then no further action is required. You can still click on the "Manage DB link" button to see some IdP details as seen from both databases, or to unlink them if there is a need.
Image Removed
Image Added
If you created a new IdP instead, then this new IdP will not (ever) be linked automatically to an entity in the eduroam database. Once the IdP is in production and becomes listed in the eduroam database, you can add the link yourself by again pushing the same "Manage DB link" button.

Image Removed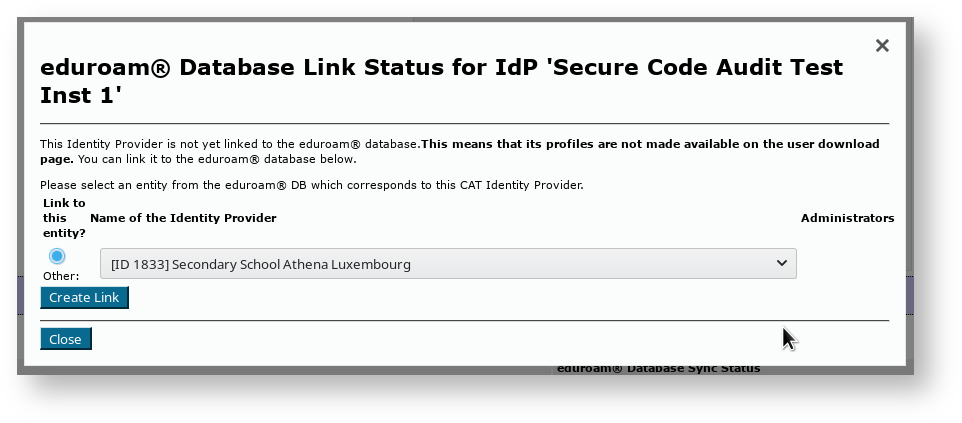 Image Added
Simply select the appropriate entry from the dropdown list and click on "Create Link" to link the IdP as seen by eduroam CAT the toolset to the entity as seen by the eduroam database.
Once an IdP is linked, there is no user interface possibility to un-link them again, because there no use cases for this. Should the need to un-link an eduroam CAT IdP from an eduroam database entity, you should contact eduroam Operations by mail.
UI-less Automated Management: the Admin API (2.0)
...