The NGI Trust open calls 
aim to:
NGI TRUST will support third-party projects working in the following areas:
Technical innovation in privacy enhancing technologies, such as cryptography, federated identity, security and privacy for Internet of Things (IoT), distributed ledgers and privacy-enhancing data transports and data at rest.
The application of artificial intelligence/machine learning/neural networks to serve the user's interests (such as addressing concerns arising from the impact of profiling and mass surveillance).
Bootstrapping trust at the protocol level, to maintain a decentralised Internet Infrastructure, for the establishment of trust, privacy (and security) between end-users and services.
Developing means for individuals to make more informed decisions on the relevance of information that they are asked to disclose when accessing and using services.
NGI Trust is organising three rounds of open calls:
A 1st call (open from 1 February 2019) seeks to attract a broad mix of projects including a larger number of early-stage 'feasibility' studies.
A 2nd call (scheduled to open in October 2019) and a 3rd call (scheduled to open in February 2020) will aim to build on 1st phase projects (larger second round funded projects following on from smaller pilot/feasibility projects) but also attract additional players with scalable projects in specific fields, industries or verticals.
NGI_TRUST Open Call third-party projects
Three types of third-party projects will be awarded funding:
Type 1 (viability) : up to € 100,000 from NGI_Trust, no matching funds required. The objective is to explore and assess the technical feasibility and/or commercial potential of a breakthrough innovation that aims at enhancing privacy and trust for the NGI. Activities can include conceptual development, risk assessment, market study or intellectual property management of a new technology or service, or a new application of existing technologies.
Type 2 (execution) : up to €180,000 from NGI_Trust and matching funds of up to €90,000 (2/3 - 1/3 model). The objective is to fund R&D or technology development projects underpinned by a strategic plan and feasibility assessment (which can be, but need not be, developed through a Type 1 project funded by NGI_Trust).
Type 3 (transition to commercialisation): up to €200,000 from NGI_Trust and the equivalent in matching funds (50/50). These projects should pursue the commercialisation of a privacy and trust enhancing innovation for the NGI (which can be, but need not be, developed through a Type 2 project funded by NGI_Trust).
Interested in applying ?
For the first call, the call text, application form and detailed guidance for applicants are now available (as of midday (CET) 1 February 2019) for download below.
Applications should be received by 30 April 2019 at 18:00
Call text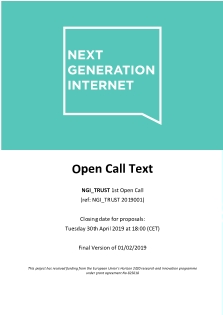 Guidance for applicants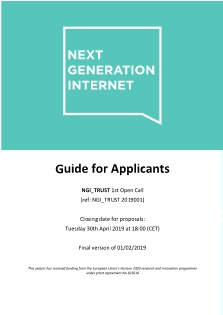 Application form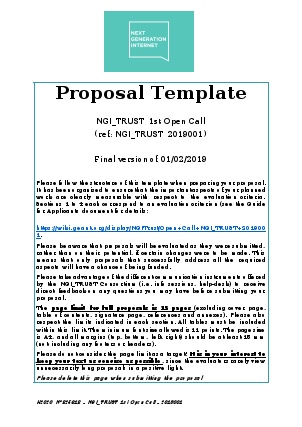 Support and further information:
Pleae see NGI_TRUST Open Call Webinar for information about the webinar held to support the first open call.
Please check for further information published on the NGI_TRUST open call wiki pages & follow our twitter account: https://twitter.com/NgiTrust if you would like to register for one of these sessions.
For further information or if you have any question, please contact the NGI_TRUST support team: NGI-Trust-support@lists.geant.org