Skip to end of metadata
Go to start of metadata
This page describes the functional flow and is provided to assist the design of merchant workflows in implementing the InAcademia academic validation service.
Release 2.7.0 was released to the production environment on 25th February 2021. No service outage was required. . The release delivered further enhancements to error handling, this time around unsupported claims or claims requested using unsupported formats, as well as other minor changes to internal logging.
Release 2.6.0 was deployed to production on 14th December 2020.
Please note: Release 2.5.0 deploys enhancements to the error flow, and was released to the production environment on 30th November 2020. No service outage was required. Clients planning to take advantage of the idp_hint assertion feature in production who haven't already expressed this preference, please email a request to info@inacademia.org.. Please refer to errors 9, 10 and 11 in the diagrams below. For the purposes of comparison, documentation is provided for the error flow as built in version 2.4.0 as well as the enhancements built in version 2.5.0, and to follow in version 2.6.0. It is strongly recommended that workflows are updated to respond to these errors.
High Level Functional flow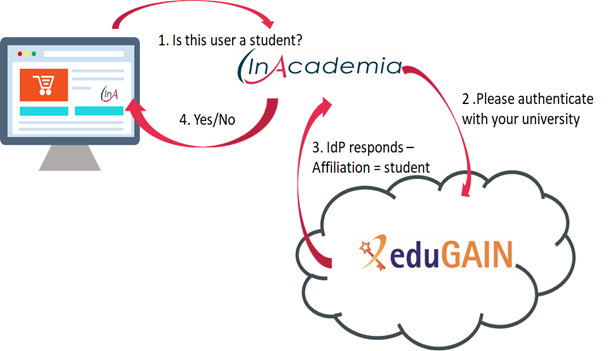 Detailed functional flow
In the following diagram, light blue represents the merchant web shop, grey blue is InAcademia functionality. 
The figure presents the 'happy' flow, ending in a successful validation, as displayed in green, as well the possible error scenarios represented in red or orange. The error situation where a institutional IdP, or the merchant redirect URL component cannot be reached because of network issues or similar is not take into account as that is out of scope and control for InAcademia and will always yield an some error in the users browser. The InAcademia service is part of a continuing development programme and additional features planned for the future are also captured below.
Entry Flow with Errors r2.7.0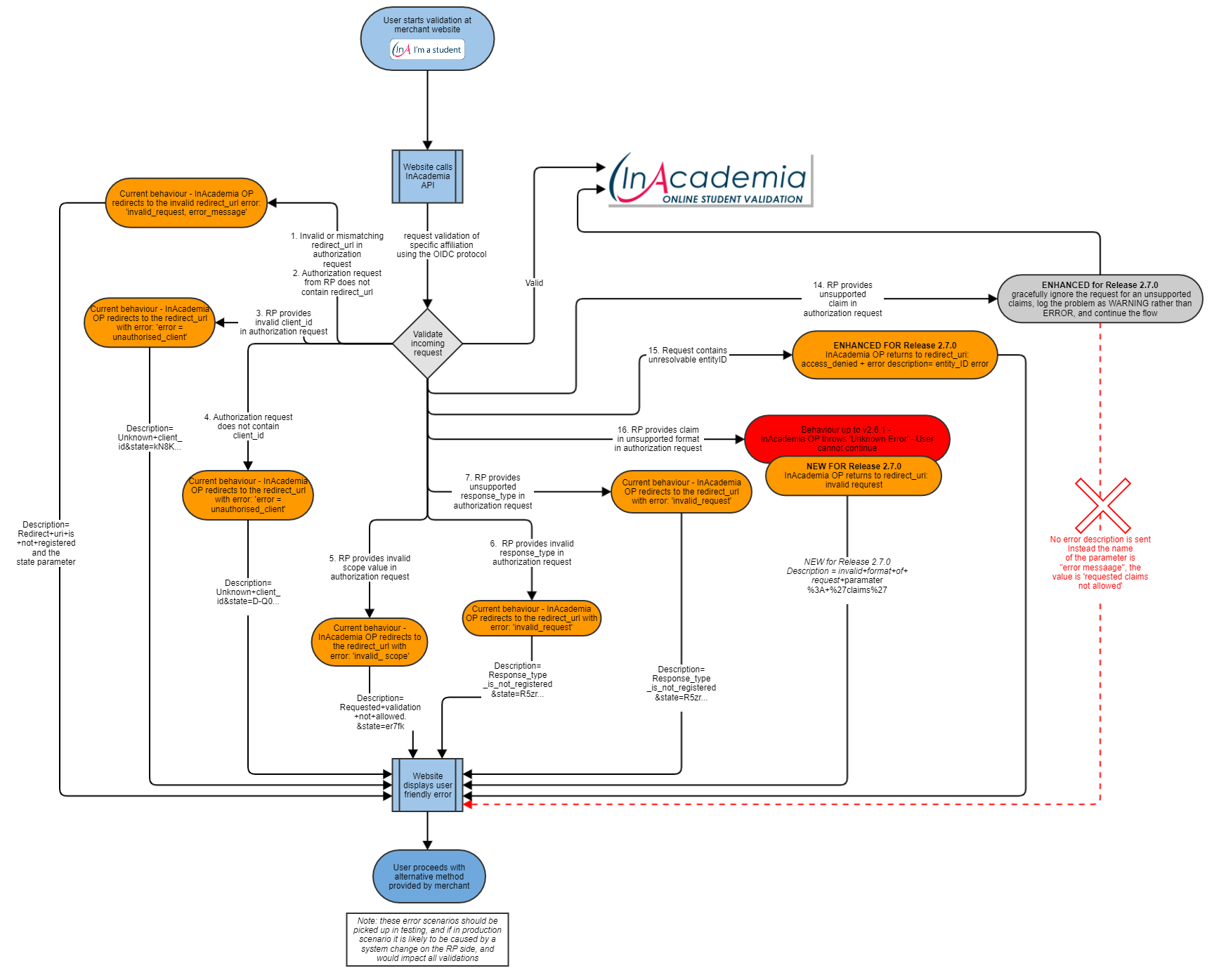 Response Flow for release 2.7.0 (including updates from 2.5.0 & 2.6.0)