SIG-SCOPE (Sustainable, Community, Practice, Exchange) is a special interest group linking like-minded professionals in the R&E community, to exchange experiences and foster new ideas in its mission to provide a leading forum for the advancement of IT practices in the R&E field.
SIG-SCOPE emerged out of a merger between two leading networking groups in the GÉANT project: Campus Best Practice and Green ICT. With a presence contribution of over 40 dedicated staff members; campus IT staff from over 50 national working groups; 200+ Best Practice documents and a wide range of tested and proven IT sustainability tools and templates, SCOPE provides a wealth of experience and resources to IT professionals.

Latest discussion
Get involved with our latest discussion or read our latest series of research papers.
You need to log in (upper right corner) to join the discussion. (Instructions)
---
>>further reading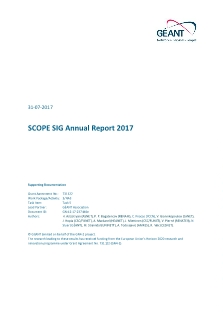 Tools for your organisation
Free materials such as best practice documents, reports, templates and promotional materials are available from:
Campus Best Practices and the Green ICT Best Practices knowledge bases
 Click here to download the environmental policy template with instructions
---
FACT SHEET
Running Period:
This is the FIRST year of SIG-SCOPE
1 May 2016 - 1 May 2017.
SIG-SCOPE is jointly led by its Steering Committee:
Community
~40 people on the mailing list
Non-exclusive list of active
SIG participants include:
AMRES, BREN, CARNet, CESNET, CSC/Funet, EENET, GÉANT, GRNET
HEAnet, MARnet, MREN, NIIF, NORDUnet
RENATER, RedIRIS, RENAM, UNINETT,
SURFSara, Surfnet, Univ.of Belgrade
News and Updates