Overview
This is the home of the GÉANT Community Committee (GCC) - formerly the TERENA Technical Committee.  The Committee has oversight of the GÉANT Community Programme.
The GCC operates under the auspices of the GA via an agreed terms of reference.
The community programme is an open initiative and as such this wiki space and all associated papers are publicly available.  The official public file store for the GCC can be found at: https://geant.box.com/v/gcc.
The GCC is closely associated with the GN4 Project Task on Task Force and SIG Coordination.
The GÉANT Community Programme Slack channel is http://geantcommunity.slack.com/.  To join please sign-up here.
Processes
GCC "small funds" budget. (obsolete! See Innovation Programme)
Objectives
The objectives of the GCC are to:
Mutually assist NRENs in providing students, lecturers and scientists the best possible Internet and ICT facilities, by e.g. sharing ideas, best practices, harmonise procedures, picking the best technologies, or jointly tackling an issue;

Assist GÉANT in matters related to community-driven collaborative initiatives.
Portfolio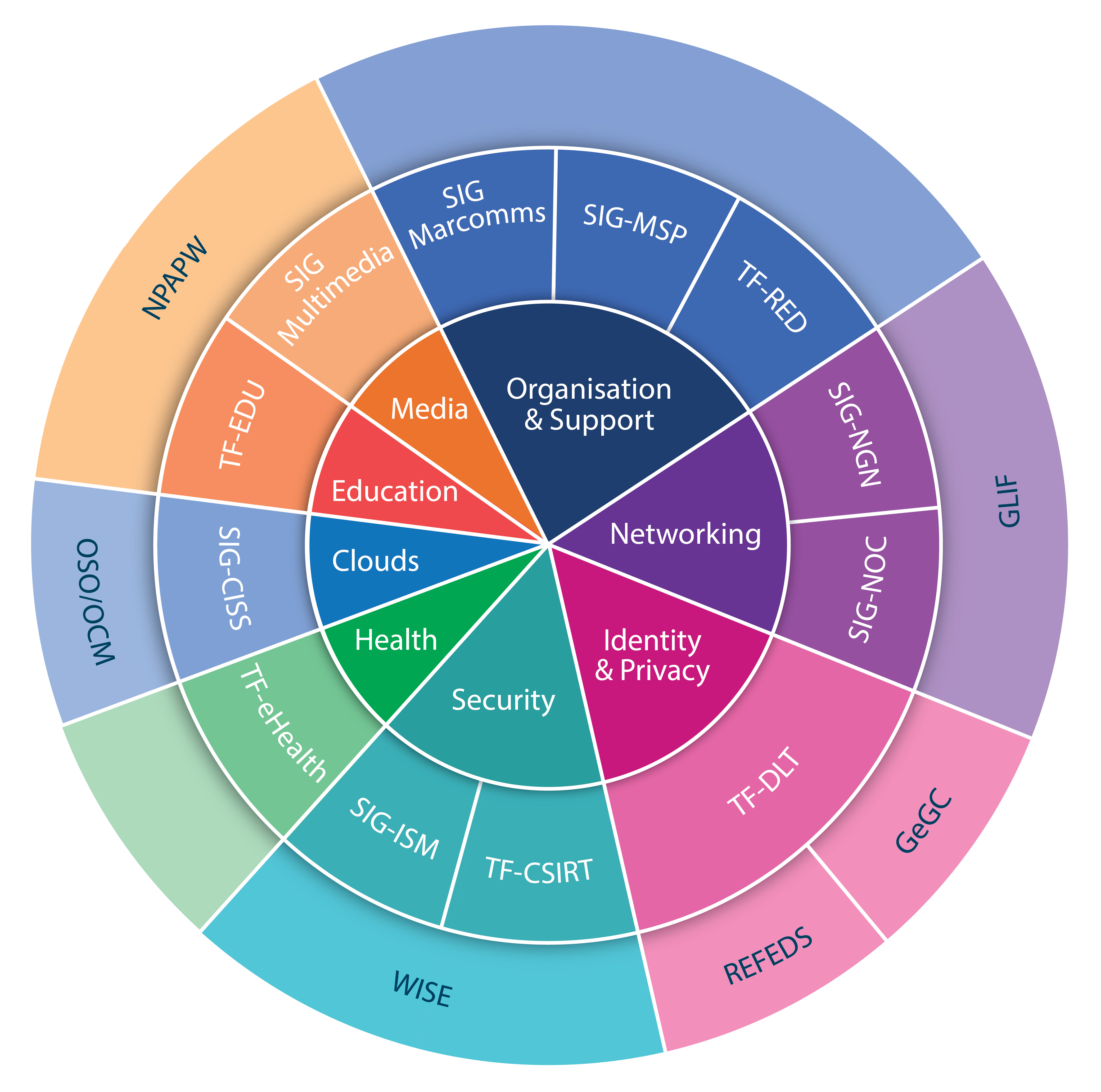 GÉANT Community Committee Members
Chair:
Claudio Allocchio, GARR (term: April 2020 - April  2024) - Security, network RTC
GÉANT co-Chair
Paul Rouse - Strategy, business, commercial
Other members of the committee are:
Alexander van den Hill, SURF, (term: May 2022 - May 2025)  - Network
Claudio Pisa, GARR (term: May 2022 - May 2025) - Clouds

Marialuisa Lavitrano,

Unimib (term: May 2022 - May 2025) - eHealth
Erik Kikkenborg, NORDUnet (term: November 2021 - November 2024) - Education, Multimedia
János Mohácsi, KIFÜ (Term: June 2019 - June 2025) - Network /GPPC /EOSC
David Groep, NIKHEF / AEGIS (Term: June 2019 - June 2025) - Grid / HPC
Victoriano Giralt, Uni Malaga / Groningen Declaration (Term: June 2019 - June 2025) - T&I, Universities, EUNIS
Previous Members:
Sabine Jaume, RENATER (Term: June 2019 - June 2025 - resigned March 2023) - Community, policy, strategy
Guido Aben, AARnet (term: April 2016- May 2022) - Software development, Clouds
Anna Wilson, HEAnet. (term: April 2016- May 2022) - Network automation
Branka Vuk, CARNET (Term: June 2019 - June 2022 - resigned July 2021)
Andrew Cormack, Jisc. (term: April 2016- April 2019)
Simon Leinen, SWITCH. (term: April 2016- April 2019)
Diego Lopez, Telefonica. term: April 2017 - April 2020)
Alf Moens, SURFnet. (term: April 2016- April 2019)
Damien La Carpentier, CSC. (term: April 2016 - April 2017)
Peter Schober, ACOnet. (term: April 2016 - April 2017)
Johan Bergström, Umeå. (term: April 2017 -

April

2018)
Claudio Allocchio (term April 2016 - April 2020)
Valter Nordh, Sunet (term April 2016 - April 2020) - former chair
GÉANT Community Committee Meetings
Past TTC Meetings